Pledge your opposition to Hillary's anti-gun agenda: National Association for Gun Rights

Right now my feet are firmly on the ground just outside the United Nation's complex in New York City.

You can imagine the scene...

Wannabe one-world dictators are feverishly putting the final touches on the freedom-killing UN "Small Arms Treaty."

And much to the chagrin of Hillary Clinton, I've managed to get my hands on a draft copy!  It's just as I've been warning:

"Small arms and light weapons" are listed as "covered items" right next to battle tanks and warships ... and they've left the definition so wide, it no doubt will include everyday firearms Americans use for defense and sport.

We only have until THIS FRIDAY July 27th to prepare for battle.

Please click here to see my critical video update: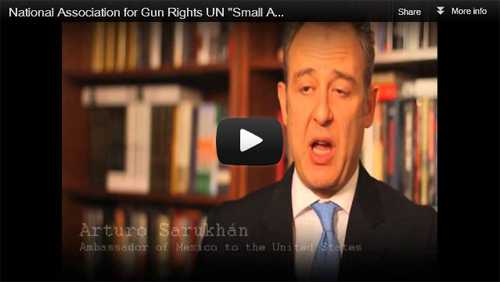 Once the UN passes this global gun grab, President Obama will do everything in his power to force it through the U.S. Senate.

We will have just days to respond.

After you watch my video update, be sure to Pledge Opposition to Hillary's Global Agenda putting yourself squarely on record AGAINST this radical treaty.

Thank you,


Dudley Brown

Executive Vice President
National Association for Gun Rights

P.S. If you've already signed your pledge, please help us reach our goal of raising $250,000 by Friday July 27th, the day the UN Conference is set to announce it's treaty.

Contribute $75, $50 or at least $25.